Advantage of Aluminium Brazing
Author:Frank Time:2022-09-27
Advantage of aluminium brazing

The use of aluminium alloys in heat exchanger applications has steadily increased over the last two decades and because of the continuing drive for light-weight design and cost reductions, aluminum has virtually replaced copper and brass. Manufacturers have derived full advantage from the properties of aluminum brazing sheet materials concerning strength, weight, thermal conductivity, formability and corrosion resistance. Therefore brazed aluminum heat exchangers have become quite common in radiators, oil coolers, condensers, evaporators, inter coolers and air conditioning equipment. And this success is directly linked to the development of joining processes.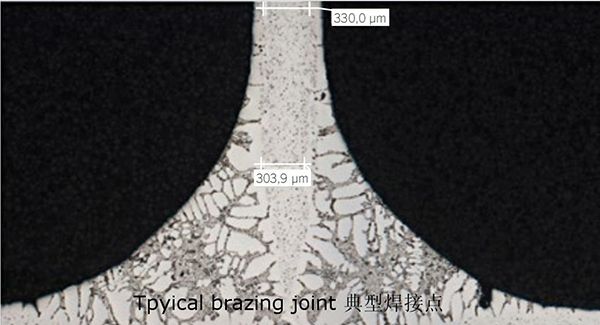 History.

At the beginning of the 1970's aluminum heat exchangers were mechanically assembled, then in the middle of this decade the fluxless vacuum brazing (VAB) process was introduced into large scale production. Subsequently, the improved, flux-based controlled atmosphere brazing(CAB) technique developed in the early 1980s, led to a steady increase in the use of aluminum brazing sheet material for heat exchanger applications.





VAB-CAB process

As aluminium alloys form a stable and high melting oxide film, all the brazing methods include the Al-oxide layer penetration step. The fluxless vacuum brazing process (VAB) and the flux based controlled atmosphere brazing (CAB) overcome this problem by means of two differing procedures.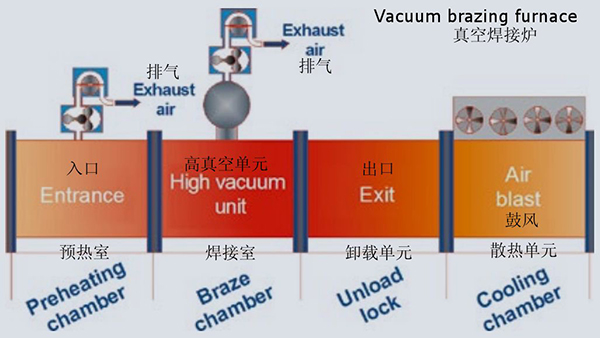 In vacuum brazing the filler alloy contains 1.0-2.0% magnesium, which diffuses on the surface during the brazing cycle and the vaporizes at 600 degree due to low pressure of 10¯5mbar. The Mg-vapour disrupts the oxide layer and thus enables the filler alloy to flow. This Mg-vapour deposits on the cold furnace walls during vacuum brazing and must be regularly removed to ensure efficient furnace operation.





In controlled atmosphere brazing a non corrosive, non hygroscopic flux is employed to dissolve and break up the oxide layer before the filler alloy melts. A Mg-content of over 0.3% in the molten of the flux due to the formation of high melting K-Mg-F-compound. These compounds reduce the viscosity of the liquid filler and results in poor brazing results.
---