Brazing aluminium fins strip
Author:Frank Time:2023-05-17
What is brazing aluminium fins strip?
Aluminum fins material has a base material composed of aluminum or aluminum alloy, which is attached to the surface of heat dissipation equipment, and is expanded or welded to form aluminum foil, which is usually used in refrigerator evaporators or other electrical appliances for temperature exchange devices. On the surface of the heat exchange device that needs heat transfer, the heat exchange surface area of the heat exchange device is increased by adding metal sheets with strong thermal conductivity. The metal sheets with this function are called fins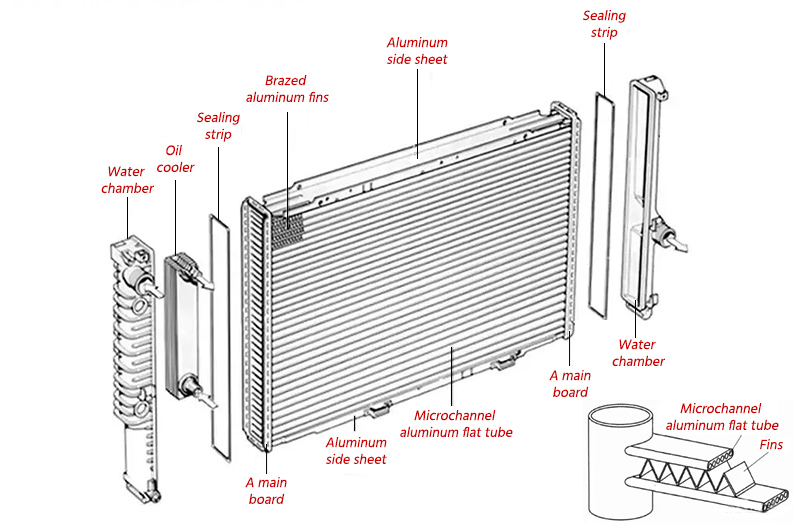 aluminum strip in heat exchanger
What type of aluminum alloy is used in brazing fins strip?
4004 brazing aluminium fins strip
4004 aluminum alloy is an aluminum alloy with high silicon content in Al-Si series alloys, 4004 brazing aluminium fins strip brazing filler metal contains magnesium and is suitable for use in vacuum brazing. During brazing, magnesium vapor reacts with residual oxygen and water in the furnace to purify, and magnesium vapor also inhibits reoxidation of the brazed aluminum alloy. It has the characteristics of low density, low thermal expansion coefficient, good volume stability, low melting point, good wear resistance and high temperature performance. As the coating layer of 4343 composite aluminum foil, it is widely used in automobiles, air conditioners, oxygen generators, etc. manufacture of AA4004/AA4104 welding sheet is a necessary raw material often used in the production process of vacuum brazing process aluminum heat exchanger. The quality of the solder sheet may have a relatively large impact on the pressure resistance and durability of the heat exchanger; specifically, the Mg element will affect the removal of oxide scale on the one hand, and will also affect the melting point of the solder sheet. The addition of Si element The process also affects its distribution and aggregation in the solder piece, which affects the melting point of the solder piece.
4343/3003/4343 Clad Aluminum Fin Strip for Heat Exchangers
4343 is an Al-Si alloy, and the alloy and 4043*** are used as welding materials. 4343 brazing aluminium fins strip aluminum alloy has the characteristics of low melting point, good fluidity and good corrosion resistance, which is very beneficial to avoid welding cracks. 4343 aluminum alloy has a higher Si content than 4043 aluminum alloy, and has the characteristics of low melting point, narrow solidification range, and good fluidity, which is beneficial to the reduction of cracks when the weld is solidified.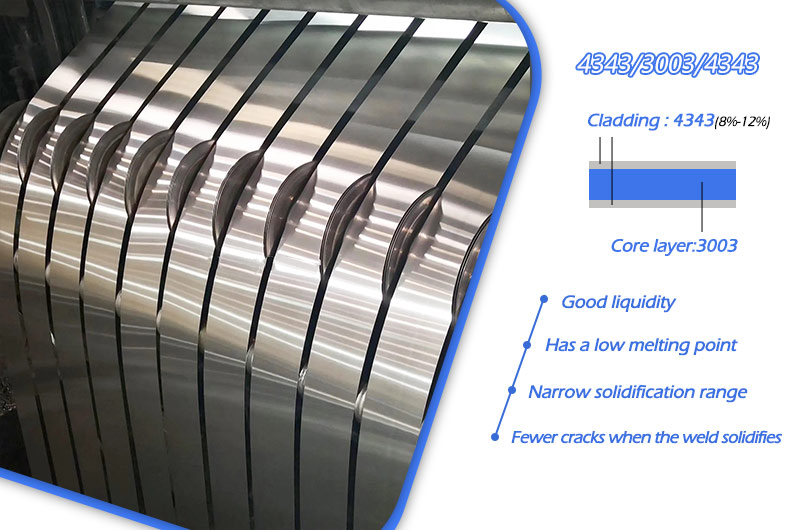 4043/3003/4043 clad aluminum fin strip
Clad Aluminum Fin Stcok Strip (4045 3003 4045)
4045 aluminum alloy belongs to Al-Si series non-heat-treatable strengthened aluminum alloy. 4045 brazing aluminum fins strip has the advantages of excellent welding performance, casting performance, good wear resistance, high corrosion resistance, high specific strength, low expansion coefficient, etc. Used in brazing processes, automotive industry, aerospace industry and household appliances.
Clad Aluminum Fin Stcok Strip (4047 3003 4047)
4047 aluminum plate is Al-Mg-Si series high plasticity alloy. 4047 brazing aluminum fins strip has excellent processing performance, excellent weldability, extrudability and electroplating, good corrosion resistance, toughness, easy to polish, 4047 aluminum is A unique alloy used as a cladding alloy or filler material in aerospace and automotive applications. As a filler, aluminum alloy 4047 strips can be combined for complex applications to bond two metals.
Clad Aluminum Fin Stcok Strip (7072 3003 7072 )
7072 aluminum alloy is heat-treated reinforced aluminum alloy, 7072 brazing aluminium fins strip can be used as radiator fins, etc., with low strength and good elongation. Normal corrosion resistance, good mechanical properties and anodic reaction. The fine grains make the deep drilling performance better, the tool wear resistance is enhanced, and the thread rolling is more distinctive. The 7072 aluminum alloy electrode has a low potential, which is mainly used for anti-corrosion covering leather, and is also suitable for heat dissipation of heat exchangers. piece. 7072 aluminum alloy is used for air conditioner aluminum foil and ultra-thin strip. 7072 aluminum alloy has a compact structure and strong corrosion resistance. Features 1. Highly heat treatable alloy. 2. Good mechanical properties. 3. Good usability. 4. Easy to process and good wear resistance. 5. Good anti-corrosion performance and soothing reactivity. Mechanical properties Tensile strength σb (MPa): ≥560 Elongation stress σp0.2 (MPa): ≥495 Elongation δ5 (%): ≥6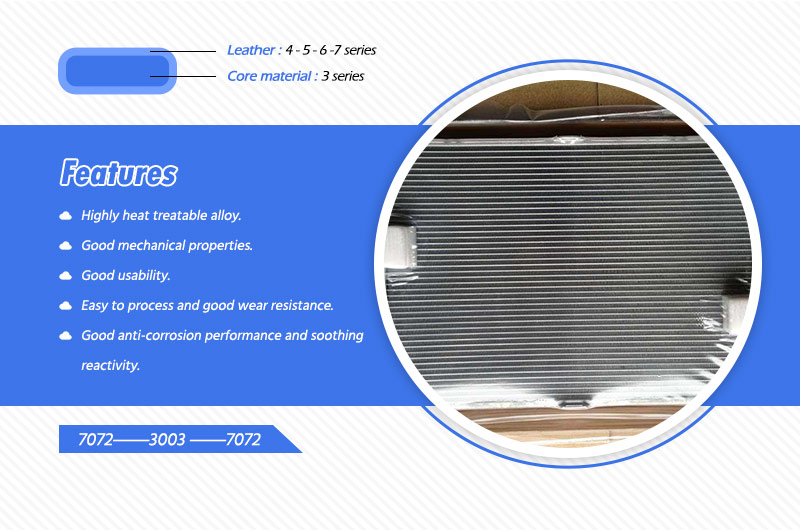 7072/3003/7072 clad fin stock(strip)
Fin Rolled Aluminum Strip 6951
6951 aluminum alloy, American deformed aluminum and aluminum alloy. The 6951 brazing aluminium fins strip aluminium alloy in the aluminium-magnesium-silicon series alloy has very good brazing properties. Strong corrosion resistance and no tendency to stress corrosion cracking, 6951 is a heat treatable alloy that provides additional strength to the fins while increasing sag resistance; this allows manufacturers to reduce the gauge of sheet material and therefore less formed fins sheet weight, these unique features make 6951 one of the alloys of choice for heat transfer and heat exchangers in the aerospace industry
brazing aluminium fins strip specification options
Clad aluminium strip for finned tube
Alu alloy 1060, 1100, 3003, 5052, 8011 8006, 3003 clad 4343 (4343+3003+4343), 3003 clad 4045 (4045+3003+4045) 7072etc
Core alloy 3003 /1060 cladding alloy 4343 4045 7072 ect
Clad rate : 8%-12% per side or your requested
Temper O, H14, H18, H22, H24, H26
Thickness 0.07 – 4.0 mm
Coil ID With core 70, 76, 150, 203, 300, 508MM
OD of Coil: 900mm-1450mm
Width 10 – 600 mm
Length coils
Aluminum Fin Strip for Brazing: AA4104, AA4004, 4A13 (also AA4047 solder tab)
Temple: H16 or H18
Thickness Specifications: 0.07, 0.10, 0.20, 0.50 mm
Width specifications: 150, 200, 270, etc.
Application status of Aluminum Fin Strip for all Types of Radiators,Coolers,Heat Exchanger, Automobile Industry and Air-conditioner.
Radiators,Heat-exchanger; Condensers; Evaporators; Engine Cooling; Heater Cores; Charge Air Coolers, Intercoolers; Engine Oil Coolers / Transmission Oil Coolers
Refrigerator, Freezer, and widely used in automobile industry,
Air-conditioner industry
Aluminum Fin Strip For Automotive Heat Exchanger
Aluminum Fin Strip for Heat Exchangers is a product made of aluminum-aluminum composite rolling, which is composed of different alloys of core layer and skin layer. and five-layer aluminum composite products. The main principle is to use the thermal conductivity, medium strength and corrosion resistance of the core layer 3 series alloy and the low melting point of the skin layer 4 series alloy to carry out brazing above the liquidus temperature of the 4 series alloy and below the solid phase temperature of the 3 series alloy. Soldering, so as to solve the problem of aluminum heat transfer device brazing.
The main alloy types of aluminum foil for heat exchangers are:
1 series includes 1100, 1050, 1050A, 1145 alloy, etc.;
3 series includes 3003, 3A21, 3203, 3005, (3003+Zn), (3203+Zn), (3211 +Zn) alloy, etc.;
4 series includes 4045, 4A17, 4A13, 4043 alloy, etc.;
5 series includes 5005 alloy;
6 series includes 6063, 6951 alloy;
7 series includes 7401, 7072 alloy;
8 series includes 8006 and 8011 alloy.
The core material of composite aluminum sheet and foil for heat exchange is mostly 3 alloy, and the skin material is 4 alloy.
The market for aluminum alloy sheet, strip and foil for heat exchangers is mainly the automotive industry, especially for cars and light vehicles, which is the largest application market for this product. In China, the heat exchange system is currently the most widely used aluminum sheet for automobiles. Such as engine radiators, heating and cooling air conditioners, water tanks and oil radiators, intercoolers, air conditioner condensers and evaporators. In addition, aluminum alloy composite tape foil is also used in construction machinery heat exchange system, electric power heat exchange system and electrical (air conditioning) cooling system.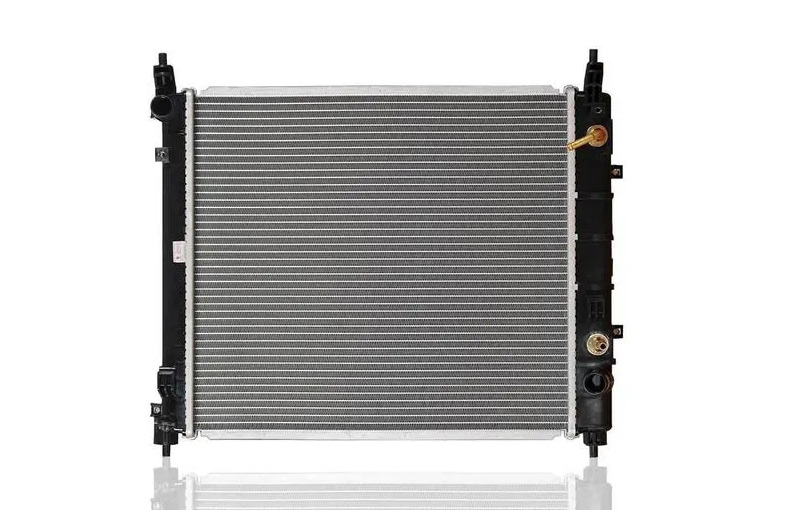 Aluminum heat exchanger
air conditioner aluminum foil tape
The alternative application market of air conditioner aluminum foil tape (including household room air conditioners and central air conditioners) is huge, and it will be the second largest consumer market after the application of automotive heat exchangers. The traditional heat dissipation components of air conditioners are copper tubes and aluminum foil structures. The annual consumption of aluminum foil for air conditioners in China is about 500,000 tons. In order to save copper resources, all-aluminum air conditioners have been developed in China. However, due to the influence of heat transfer technology, cost and consumer recognition factors, the substitution effect is not very obvious, and only a small number of domestic users (such as Hangzhou Sanhua) have achieved batch application. In the future, with the promotion of this new technology and new products, brazed aluminum composite tape foil will form a new large incremental market after the large-scale application of automotive exchangers. The heat transfer special aluminum alloy will maintain an annual growth rate of more than 17% in the future. If it is promoted in the air conditioning field, it will usher in an explosive growth in demand.
Why choose Signi aluminum as Aluminium Fin Strip manufacturer & supplier
1.Over 12 years experience in manufacturing, inventory and supply of Aluminium Strip for Fin Stock
2.Best price on Fin Rolled Aluminum Strip - available worldwide with shortest delivery time
3.Exporting Aluminum Fin Strip manufacturing in compliance with ASTM, EN standards is our specialty
4.We can handle the logistics for you - we can provide FOB, CIF delivery to any port
5.The documents we provide include – Certificate of Origin, Chamber of Commerce certified invoice and PL, Test certificate according to EN 10204 3.1, other test reports as our customers may request.