clad aluminum strip sheet
Author:Frank Time:2023-05-17
clad aluminum strip sheet comprises of a core alloy clad on 1 or 2 sides with a lower melting aluminum-silicon (Al-Si) alloy. This thin layer, usually makes up 5 % to 10 % of the total thickness of the brazing sheet.
It melts and flows during the brazing process, to provide upon cooling a metallic bond between the components. It is common that the braze clad alloy are from the AA 4xxx series or more particularly AA 4343 (Al-6.8~8.2 wt.% Si).
However, if larger fillets are desirable, or if in a situation where brazing is likely to occur at lower temperatures, AA4045 is the preferred choice.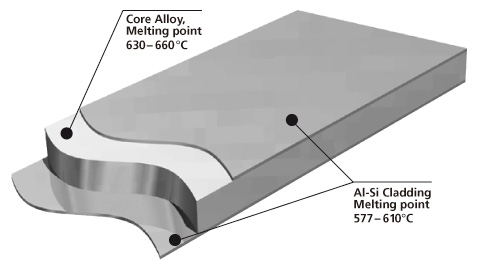 Dimensions  
 

Strips 

Sheets 

Thickness 

0.051mm--3.0mm

0.4mm--6.35mm

Width 

6mm--1600mm

500--1600mm

Length 

 

Max. 10000mm

Edge quality 

Trimmed 

Trimmed and slit; sawn 

Inside diameter

305mm, 405mm, 505mm Paper core, Aluminium core,  without core. 

 

Outside diameter

Max. 1600mm without connect point
cladding 

cladding 

One side; Both sides 

cladding rate 

5%, 7.5%, 10%, 13%, 15% (other clad percentages available upon request)

cladding tolerance 

cladding thickness of 1.5%--<4%: +/-0.6 

cladding thickness of 4.0--6.0%: +/-1.0

cladding thickness of 6.0--<=12.0%: +/-1.5

cladding thickness of 12.0--20.0%: +/-2.0
 
Surface 

Quality 

Mill finish; for thickness 0.3--3.5mm, chemically degreased


 

Marking 

Ink marking 
1> Tolerance according to EN and ASTM.
2> Higher thickness on request. 
3> Special dimensions , tolerances, and alloys on request. 
---